To view someone's bio, simply click on their photo.
To view someone's bio, simply click on their photo.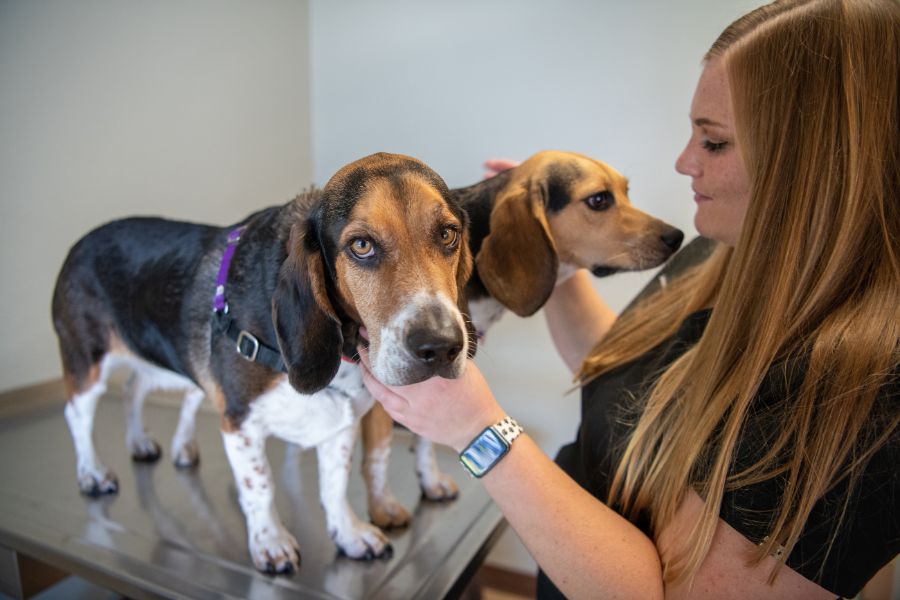 Dr. Jordan Fromm
Dr. Jordan Fromm joined Cascade Veterinary Clinics in 2021. She is a graduate of Washington State University College of Veterinary Medicine. She holds a Medicine Clinical Small Animal Dentistry Certification; is Fear Free Level 2 Certified; and RECOVER CPR Basic and Advanced Life Support Certified. Dr. Fromm is also a Phi Zeta National Veterinary Honor Society Member, and is PADI Open Water and Advanced Open Water Diver Certified.
Originally from Montana, Dr. Fromm grew up in Wenatchee. She was excited for the opportunity to join the team at Cascade Veterinary Clinics, who were also her mentors before and while pursuing her degree. She knew being a veterinarian would help her be a voice for animals, and a support and resource for their owners.
In her practice, Dr. Fromm is passionate about ultrasound, dentistry, and internal medicine cases. She strives to make a difference in the lives of sick or suffering animals, and working with pet owners so their furry family members can live their best and healthiest life.
When not caring for animals, Dr. Fromm can be found with her two beagles, reading a good book, or planning her next scuba diving trip. In summer, she is usually on the water, and in winter, she loves to ski at Mission Ridge.
Dr. Fromm is extremely excited to return to Cascade Vet Clinics and work alongside her mentors, friends, and amazing clients and patients.
Dr. Dane Collier
Dr. Collier, a 2022 graduate of Washington State University Doctor of Veterinary Medicine program started his career at Cascade Vet in June of 2022. Before vet school he studied neuroscience and psychology at Washington State University Vancouver where he graduated in 2016. Dr Collier was born and raised in the Wenatchee valley and is excited to be able to return home to serve the community he was brought up in. Dr Collier enjoys being a vet because of the daily challenges, the relationships he forms with pets and their humans, and the ability to practice and improve clinical skills. Outside of the vet clinic Dr Collier enjoys spending time outside backpacking, hiking, biking, and skiing with his wife and 2 dogs.
Dr. Connor Murray
Dr. Murray, a recent graduate of the Washington State University veterinary program in 2022, is thrilled to kickstart his career at Cascade Veterinary Clinics. Connor grew up in Bothell and cherished weekends spent hiking and climbing around their family place in Leavenworth. In 2017, he graduated from Gonzaga University and remains an ardent Gonzaga basketball fan. Driven by his passion for diverse veterinary cases, he has a keen interest in emergency medicine and ophthalmology. Beyond work, Dr. Murray finds joy in outdoor activities with his wife and two beloved Labrador Retrievers—hiking, climbing, floating the river in summer, and skiing in winter. Family time holds a special place in his heart.
Dr. Gregory Campbell
Dr. Campbell, a graduate of the Washington State University veterinary program in 2023, is truly excited to return to Cascade Veterinary Clinics as a doctor. Before attending veterinary school, he worked at Cascade Veterinary Clinics as a patient care coordinator and veterinary assistant, where he discovered his passion for becoming a vet. Within veterinary medicine, he particularly enjoys feline medicine and anesthesia. Originally from northwest Arkansas, Dr. Campbell has now relocated back to his family's roots in Washington. When he's not working, he finds joy in biking, swimming, reading, learning new languages, and traveling internationally with his husband. He is the proud owner of two Great Pyrenees dogs, Luna and Sheldon, as well as a retired clinic cat named Jade.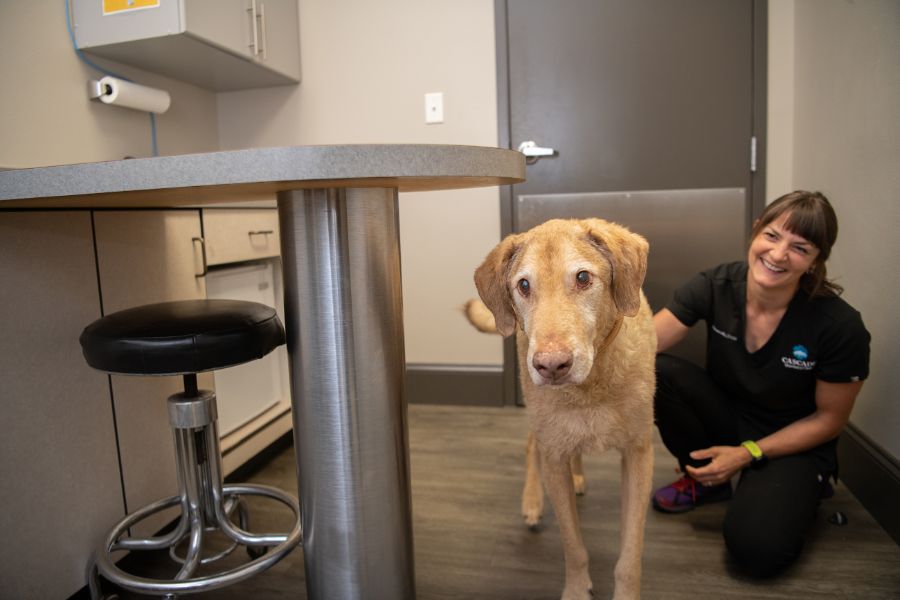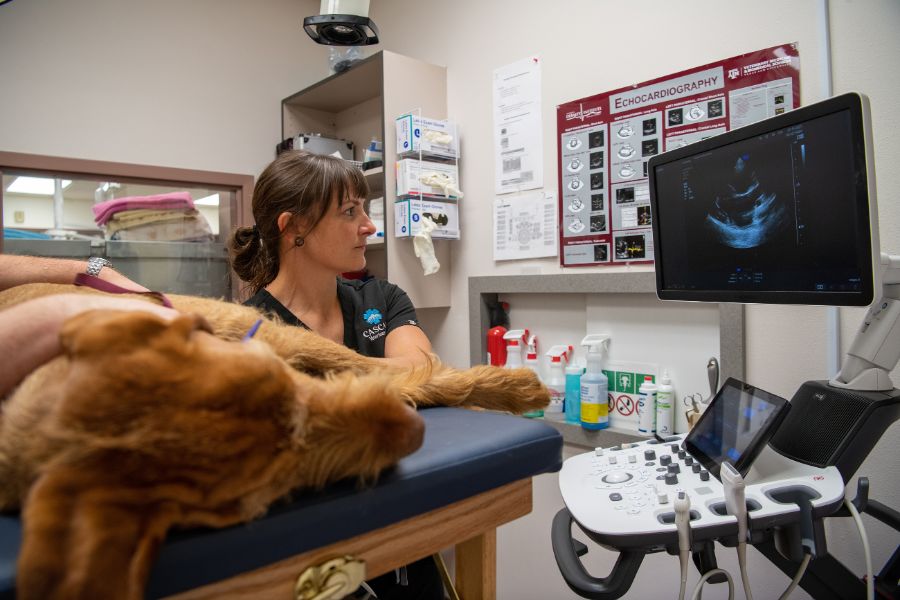 Dr. Leah Edwards
Dr. Leah Edwards became a veterinarian in 2006 and practiced in Oregon, Tennessee, and North Carolina. In 2016, she moved to the Wenatchee area and joined Cascade Veterinary Clinics. Her move to the Pacific Northwest brought her closer to family, friends, and the mountains.
Dr. Edwards loves all aspects of veterinary medicine and has a particular interest in emergency medicine. She excels in the challenging nature, fast pace, and diverse caseload of the ER. Dr. Edward's professional development and continuing education have focused on emergency medicine; and extensive abdominal ultrasound and cardiac imagining training. She is also certified in Veterinary Acupuncture.
When she isn't caring for her client's furry family members, Dr. Edwards, a native of Ohio, makes the most of life in the Pacific Northwest by riding her mountain bike, exercising, or adventuring with her three Chesapeake Bay retrievers.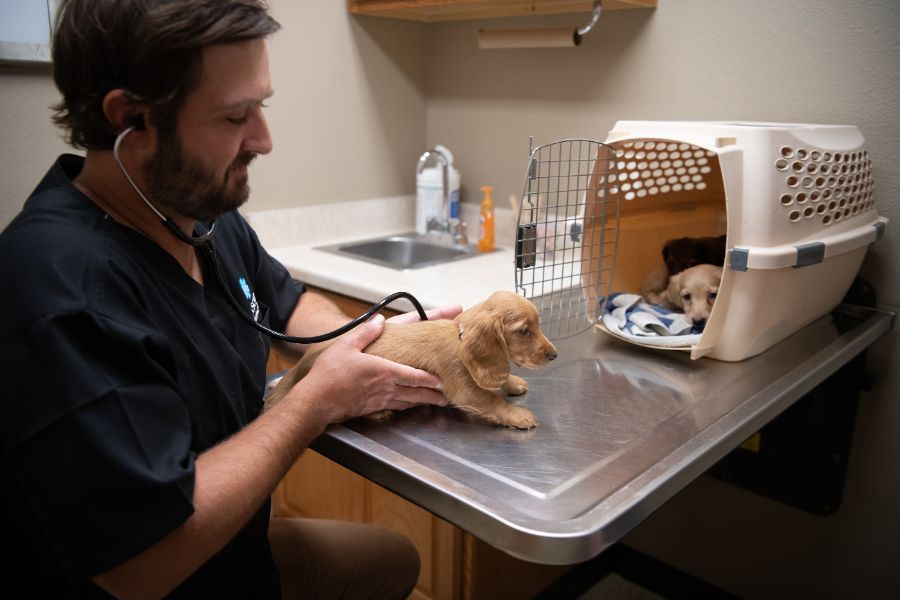 Dr. Eric Brownlee
Dr. Eric Brownlee has been practicing with Cascade Veterinary Clinics since 2014. A graduate of the University of Glasgow School of Veterinary Medicine, his love and compassion for animals, background in the sciences, as well as his ambition to practice medicine led him into the veterinary field.
A true local, Dr. Brownlee, and his wife grew up in Wenatchee. After travel in Europe and time spent living in Scotland while studying, he and his family returned to the community they love to be closer to family and friends. The access to year-round recreation was a bonus, allowing them to spend time skiing, golfing, enjoying water sports, hiking, biking, fishing.
In his practice, Dr. Brownlee is passionate about providing the best care possible for all pets and is excited to be part of a progressive veterinary practice. He prides himself on being caring, understanding, honest, and relatable to clients.
Dr. Brownlee enjoys giving back to the community, taking every opportunity to volunteer with child activities, sports, and school. He considers himself fortunate to be a part of this growing community.
Dr. Stephanie Allphin
Dr. Allphin has been practicing with Cascade Veterinary Clinics since 2014. She is a graduate of Washington State University College of Veterinary Medicine and is happy to have started her career in the Wenatchee Valley. Dr. Allphin grew up surrounded by many pets, and through these interactions and relationships, she developed a love and compassion for animal care, recognizing the importance of the human-animal bond.
Originally from Enumclaw, WA, Dr. Allphin and her husband love the lifestyle and weather in Central Washington. Even as Wenatchee grows, to her, it still maintains the benefits of smaller town charm, which she greatly appreciates.

When not caring for pets, Dr. Allphin is probably baking – something she loves. She explores new recipes and creates different desserts – and finds willing testers among her family and co-workers. Outside the kitchen, she is often hiking, fishing, and exploring our beautiful valley.
In her practice, Dr. Allphin is most passionate about promoting good dental health for her patients. She finds strong satisfaction in performing dental procedures in order to benefit a pet's comfort level and overall quality of life. She also enjoys preventative care medicine to be proactive in promoting a long, happy and healthy life for her patients.

Dr. Allphin takes pride in her career as a veterinarian. She treats all her patients with the highest standard of care, recognizing the important role that their pets play in their lives.
Dr. Erik Stoll
Dr. Erik Stoll has been with Cascade Veterinary Clinics since 2018. His inspiration to become a Veterinarian stemmed from the invaluable experience he gained during his childhood summers working with his father, who is also a veterinarian.
Originally from Sandpoint, Idaho, Dr. Stoll chose to move to the Wenatchee area because of the opportunity to work with a group of highly talented, team-oriented veterinarians – including his wife, Dr. Eichler. When he isn't practicing the art of veterinary medicine, he enjoys exploring the great outdoors with his spouse and their dogs.
Dr. Stoll loves caring for his client's pets and revels in the fact that veterinary medicine has no learning plateau. The diverse scope of general practice keeps him motivated to continue learning and growing in this profession while focusing on developing genuine relationships with his clients and their beloved pets.
Dr. Sarah Eichler
Dr. Eichler has been with Cascade Veterinary Clinics since 2017. She earned an Associate of Science degree from Wenatchee Valley College in 2007 and traveled abroad to teach English in Brazil and Afghanistan. This experience emphasized the integral relationship between humans and animals and solidified her desire to become a veterinarian. A native of Cashmere, the call of the mountains and the opportunity to work with an incredible group of doctors, led her back to the Wenatchee Valley.
While working towards her DVM, Dr. Eichler earned a certificate in Global Animal Health, focused on novel approaches for disease intervention and delivery of preventive health care for animals and humans.
Outside of work, Dr. Eichler spends the majority of her time hiking, rock climbing, and enjoying the antics of her two pups, a very silly cat, the best horse in the world, and one of her favorite colleagues, Dr. Erik Still – who happens to be her husband.
Dr. Eichler loves the diversity of veterinary medicine and building relationships with owners by caring for their furry family members from the first weeks of life through their golden years.
Dr. Justin Miller
Dr. Justin Miller has been a Veterinarian since 2009. A graduate of WSU, she brought her love of animals, and dedication to their care, to Cascade Veterinary Clinics in 2011.
Dr. Miller has always LOVED dogs, and a child, desperately wanted a cat. However, she didn't consider becoming a veterinarian until her freshman year at WSU. Starting as a communications major with a plan to become a news broadcaster, she decided it wasn't the right fit. Her interest in science classes led her to the idea that she could work with dogs and cats all day.
Originally from Edmonds, a suburb of Seattle, she met her husband and fellow veterinarian, Zack Hambleton, in veterinary school. They wanted to live somewhere with great access to outdoor recreation to enjoy skiing, hiking, mountain biking, and trail running. The greater Wenatchee area is a perfect fit and is a close drive for them to visit family on the west side of the mountains.
When not working, Dr. Miller enjoys time with her two sons, two rascally dogs, a naughty kitten, and the embodiment of feline perfection – a three-legged cat named Trike. She is also an avid reader and always looks forward to her book club.
Dr. Miller finds client education is vital to understanding what is going on with their pet and leads to better overall care. As someone who has owned a dog with significant behavioral issues, helping clients better understand the root causes and the keys to solving them is immensely gratifying. To her, it is the most rewarding aspect of her job!
Dr. Ty Johnson, Owner
Dr. Ty Johnson is co-owner of Cascade Veterinary Clinics. He grew up in Entiat, WA, where much of his family still resides. He attended Central Washington University in Ellensburg, WA, where he received his pre-veterinary degree in biology, and graduated from veterinary school in 2002 at Washington State University.
After graduation, Dr. Johnson returned to the Wenatchee Valley at Cascade Veterinary Clinics as an associate veterinarian, becoming a partner in 2008. In his practice, his special interests include orthopedic surgery and ophthalmology. He is one of a small number of veterinarians in Washington State who is trained in arthroscopic surgery.
When not at work, Dr. Johnson enjoys rafting and fishing the Wenatchee River and skiing at Mission Ridge with his family.
As a co-owner of Cascade Veterinary Clinic, Dr. Johnson is committed to serving clients and caring for their pets.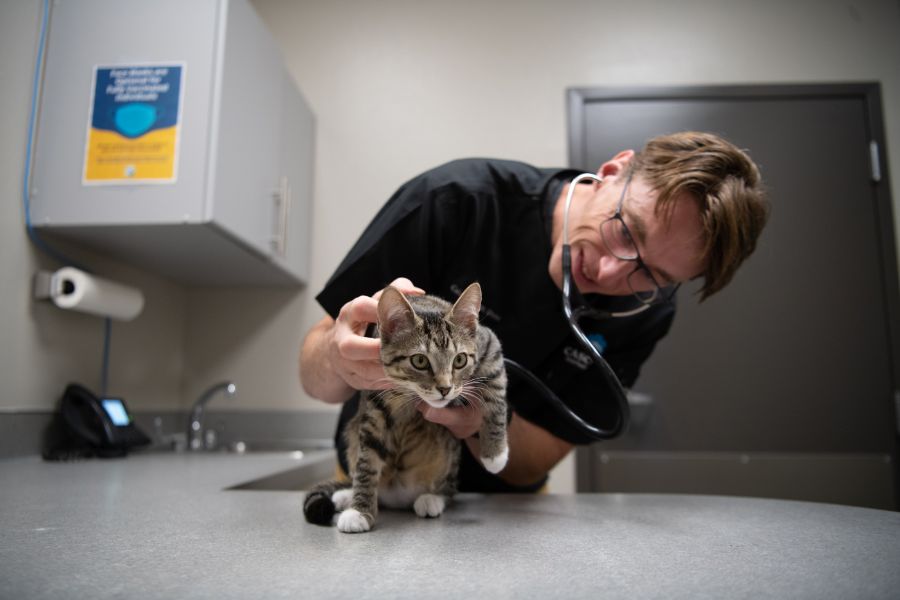 Dr. Colin Bonnett, Owner
Dr. Bonnett is co-owner of Cascade Veterinary Clinics. He grew up in Anchorage, Alaska, before completing his undergraduate degree in Fish and Wildlife Management in Montana. He returned to earn a Master of Science in Microbiology studying immunology and infectious disease before enrolling in the Veterinary Medicine program at Washington State University in 2005.
A diverse caseload and client interactions are the priorities of Dr. Bonnett's general practice. He has taken additional training to advance his interest in minimally invasive surgery – such as laparoscopy and endoscopy – advanced dentistry and orthopedic surgery. With an emphasis on client communication and education, he enjoys teaming up with his patients' owners to implement the best possible care for their pets.
Colin has a bad guitar and mountain bike habit, a love for the mountains, and when not working, he and his family can be found along the rivers, trails, in the mountains, beside the ice-cream stands, playing in the music festivals of the surrounding area, and always seeing his clients and their pets out on the trails and slopes!
As a co-owner of Cascade Veterinary Clinic, he loves being a part of this great community and looks forward to building more great relationships.
Dr. Zach Warmenhoven
Dr. Zach Warmenhoven joined Cascade Veterinary Clinics in 2017. Prior to moving to Wenatchee, he honorably served from 2005-2009 in the United States Air Force as an airborne cryptologic linguist. Upon discharge from military service, he earned a Bachelor of Science Summa Cum Laude in Animal Sciences at Washington State University. While attending school, he worked as a veterinary assistant in the WSU Veterinary Teaching Hospital Equine Surgery Department. He then matriculated into WSU Veterinary College and graduated at the top of his class in 2017.
While at WSU, Dr. Warmenhoven distinguished himself by engaging in scientific research, helping to optimize animal models the lab was using to test candidate pharmaceuticals aimed to treat neurodegenerative diseases.
Dr. Warmenhoven chose to live in the Wenatchee Valley because it offers an abundance of outdoor activities and scenic beauty; he sees the growing community as the ideal place to raise his children.
In his practice, Dr. Warmenhoven enjoys all facets of medicine and surgery; however, he takes a particular interest in diagnostic imaging. He has spent the last few years building skills in echocardiography and ultrasound. Dr. Warmenhoven likes the tight-knit, team-oriented approach and the high caliber of medicine practiced at Cascade Veterinary Clinics. He is excited to become immersed in the Leavenworth community and build relationships with people and their pets.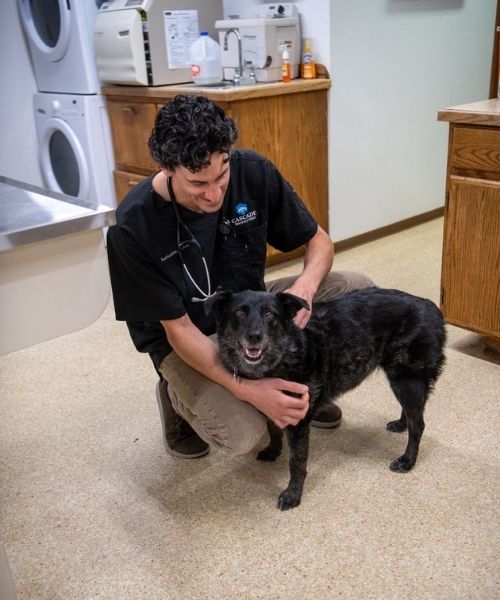 Dr. Zack Hambleton, Owner
Dr. Zack Hambleton is co-owner of Cascade Veterinary Clinics. He grew up in Sultan, WA, and settled in Wenatchee with his wife, Justin Miller when they graduated from WSU veterinary school in 2009.
Dr. Hambleton decided Cascade Veterinary Clinics was such a great fit, he's never wanted to work anywhere else. He has always loved science and working with animals. Initially, he planned to be a wildlife biologist, but after some time in a variety of wildlife field jobs, working as a commercial fisherman, a spotted owl field research assistant, working with sea turtles in Hawaii, and on the California Condor Recovery Project, he found being a veterinarian as a great balance of working with people and animals while engaging science and problem-solving.
Most weekends, when Dr. Hambleton isn't coaching Cashmere Youth Soccer, he and his wife are out adventuring with their two sons. With so much outdoor recreation at their fingertips, they split their free time between skiing, mountain biking, climbing, and backpacking – when they aren't in the skate park, at soccer games, river floats, or enjoying backyard frisbee and barbecues with friends.
In his practice, Dr. Hambleton enjoys soft tissue surgery, dentistry, and ultrasound imaging. He finds complicated medical cases and the report-and-trust-building aspect of veterinary medicine rewarding and appreciates the connections he makes with people while taking care of their pets.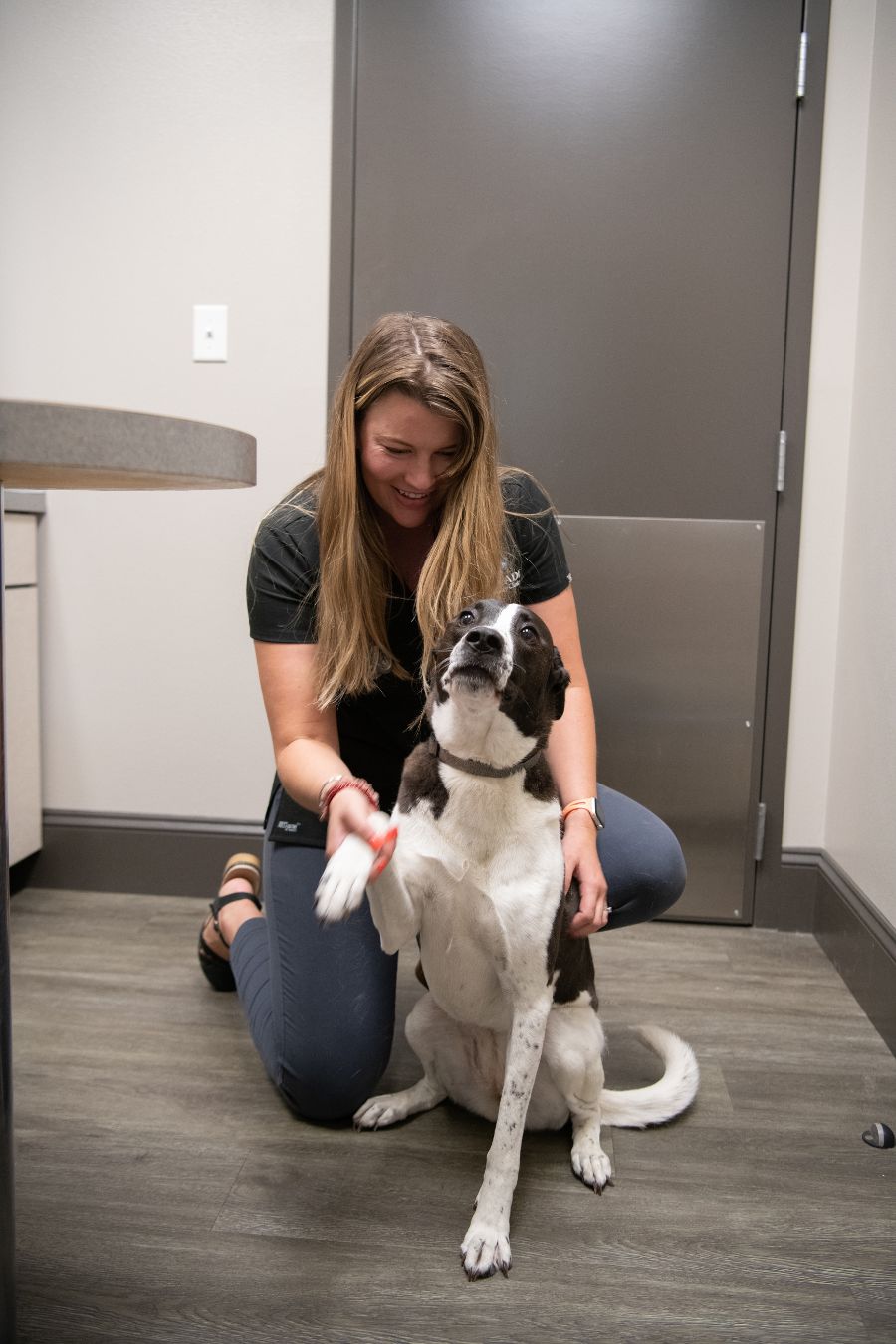 Dr. Kelsey Roberts
Dr. Kelsey Roberts graduated in the Spring of 2021 from Washington State Veterinary School before joining Cascade Veterinary Clinics. She is Fear-Free Certified and holds a RECOVER CPR certificate.
Inspired from youth with a love for animals and the opportunity to work with a lot of interesting ones – frogs, elephants, big cats – she has learned how animals have a big impact on our lives. Dr. Roberts' passion for Veterinary Medicine allows her to be an animal lover, a lifelong learner, and a teacher all in one. Her general practice interests include soft-tissue and orthopedic surgery, cardiology, and preventative medicine. She's also happy to see any exotics for care.
Dr. Roberts grew up in the Boise area; however, she and her husband fell in love with the beautiful scenery and the outdoor recreation opportunities in the Pacific Northwest. As a bit of a foodie, she enjoys finding new restaurants; or going out to tried and true spots for weekend breakfast; and when the weather cooperates, getting the dogs out of the house and going just for a walk/run; or enjoying camping, hiking, and water activities such as swimming and paddle-boarding.
An avid soccer and basketball player from youth, Dr. Roberts is always looking for opportunities to get involved as a volunteer or assistant coach with local sports teams. She supports the local humane society and looks forward to becoming a close part of the wonderful community in the Wenatchee area.
Dr. Annie Gibson
Dr. Annie Gibson joined Cascade Veterinary Clinics in 2021. Prior to moving to the Wenatchee area, she worked with Rural Area Veterinary Services, a group that provides free veterinary care to rural residents who lack readily available access to veterinary care. Dr. Gibson is Fear Free Certified and Recover CPR trained.
Dr. Gibson grew up in Coeur d'Alene, Idaho, and chose to pursue Veterinary Medicine while volunteering at a small animal clinic. She has always enjoyed working with animals and loves the opportunity to help others by helping their furry family members. She joined the Cascade Veterinary Clinics team to provide high-quality medicine in a collaborative environment.
When not caring for her clients' animals, she is outdoors – hiking, mountain biking, paddling, or spending time with her friends and pets. She loves cooking, baking, and a good book.
Within veterinary medicine, Dr. Gibson's interests include internal medicine, surgery, and emergency medicine. She is passionate about getting to know her clients and patients and providing the best service possible. Dr. Gibson also delivers pet medical care to groups on the Quinault Reservation and at animal shelters. She believes in using her skills to help others and better serve communities.